This website displays Sophocles Sophocleous' investment strategy, stock ideas and other topics of interest to investors.  The information shown here is for educational purposes (please see disclaimer).
Portfolio Manager:  Sophocles Sophocleous, CFA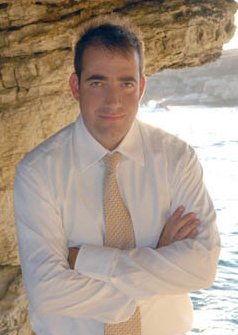 Sophocles currently manages his own investments on a full-time basis and since 2014 manages third-party money under the regulatory umbrella of the Cyprus Development Bank.  He also teaches a course on investing at the Cyprus International Institute of Management and hosts an annual Value Investor Conference.
Fulbright scholar and Chartered Financial Analyst.
Canadian (born in Nova Scotia) and European Citizen (Cypriot).
17+ years experience in developed and emerging markets in both debt and equity.  Prior to FatAlpha he worked for 11+ years for an award-winning London-based hedge fund.
Graduated from the University of Illinois at Urbana-Champaign with a double major in Economics and Finance.
Resume:  Sophocles Sophocleous, CFA
My Strategy
Summary
All FatAlpha strategies apply a Value Investing approach.  By applying value strategies we increase the probability of success and achieving our targets.  Proprietary Quantitative Value Models are used to source ideas.  These models have been backtested using 20 years of data from Bloomberg.  In addition, each individual factor used is based has been backtested on its own, and is theoretically in line with existing academic studies.  The potential investment ideas are then filtered via Qualitative Analysis.  In other words, bottom-up fundamental analysis is applied which enhances returns and reduces risk.  This overlay has resulted in returns which have beat the stand-alone models.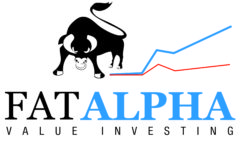 Why Value Investing?
The most successful investment managers have been value investors.   In searching for the best managers, a re-occuring theme evolved:  They all practiced value investing.  Examples of such managers are:  Warren Buffett (Richest man in the world), Peter Lynch (29% average return for Magellan from '77-'90), Al Frank (23% avg return, author of No.1 ranked newsletter "The Prudent Speculator"), John Neff (3% alpha for 31 yrs), Sir John Templeton (his flagship fund had a 13.8% annualized average return from 1954 to 2004 vs the S&P's 11.1%), Benjamin Graham (the father of value investing and successful investor who taught Buffett), Kenneth Fisher ($40 billion AUM via P/S investing), Joel Greenblatt (philanthropist formula investor)
Academics conclude that value investing results in significant above average returns.  Numerous academics have written papers and studied value investing.  The conclusion is that stocks with low multiples outperform and do so without being more risky.  Examples of such studies are:
Basu, 1983, "The Relationship Between Earnings' Yield, Market Value and Return For NYSE Common Stocks."  According to Basu, "The results confirm that the common stock of high E/P firms earn, on average, higher risk-adjusted returns than the common stock of low E/P firms and that this effect is clearly significant even if experimental control is exercised over differences in firm size."
Fama and French,  1992, "The Cross-Section of Expected Stock Returns."  According to the researchers: a) "The positive relation between book-to-market-equity and average return also persists in competition with other variables" b)  "…our tests do not support the most basic prediction of the SLB model [CAPM], that average stock returns are positively related to market Betas", and c) "We are forced to conclude that the SLB model [CAPM] does not describe the last 50 year of average stock returns."
Lakonishok, Shleifer and Vishny, 1993, "Contrarian Investment, Extrapolation, and Risk."  The results showed that a)  "…strategies that involve buying out-of-favor (value) stocks outperform glamour strategies and the market", b) "…market participants appear to consistently overestimate the growth rates of glamour stocks relative to value stocks", and c) "…value strategies appear to be less risky than glamour strategies.  Reward for bearing fundamental risk does not seem to explain higher average returns on value stocks than on glamour stocks."
Why Value Investing Will Continue To Work?
Value investing requires fund managers & investors to hold unpopular stocks and avoid the latest star stock.  Many fund managers prefer to hold popular stocks for marketing purposes, peer-pressure and competitive reasons.  Investments in sectors and stocks which are out-of-favor are risky to their careers.  It is easier to blame the market or bad luck for underperformance when holding blue chips and market darlings. "No one ever got fired for buying IBM."
Value investing doesn't always beat the market and as a result there is not enough trust in it.  Both investors and fund managers are not comfortable with this, and many have the false believe that they can do better.  At the same time quants usually result in data mining historical data in search of the 'holy grail'.
Investors won't stick around to reap the long-term benefits. Fund managers are focused on short-term results because they are judged on a quarterly and yearly basis.  Value models outperform over a period of 3-10 years.  This timeframe is too long for the majority of managers.
Large funds are handicapped due to size to buy only very large companies and thus miss out on smaller investments.  This is an investment opportunity for a small portfolio such as FatAlpha which invests in a wider universe.
Funds over-diversification reduces returns.  Research has shown that managers 'best ideas' do well, however the performance of those investments are diluted by the funds other investments.11  Cohen et al make the point that more concentrated portfolios would benefit investors
Sourcing Ideas
Possibly the best method to source ideas is via the use on quantitative models and/or screens.  Models do not have a bias or a favourite stock and thus help an investor stick to a disciplined approach.  By sourcing via models, investors do not fall into the trap of finding an excuse to buy a stock.  90-100% of the FatAlpha portfolio is sourced from models.  0-10% is discretionary, however models are still used to judge the discretionary choice.  The models used are based on backtests done and focus on company fundamental statistics and valuation.  Since 2012 FatAlpha has backtested dozens of quantitative models.  The current models that are used focus on four investment themes: 1) Value, 2) Value with momentum, 3) Value with growth, 4) Value and dividends.
The backtested results for 1996 – 2013 are shown below.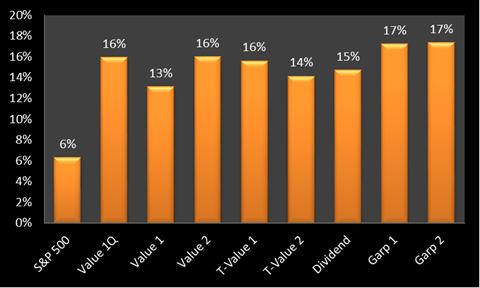 To ensure that the results were not by coincidence or data-mining, the models were tested for robustness.  This was done by backtesting the entire Russell 3000 and breaking the group into deciles.  In other words, into 10 groups of 300 (i.e. 1-300, 300-600, 600-900, etc) for every year and the returns of each calculated.  As expected the top group outperformed with each subsequent group registering a lower return.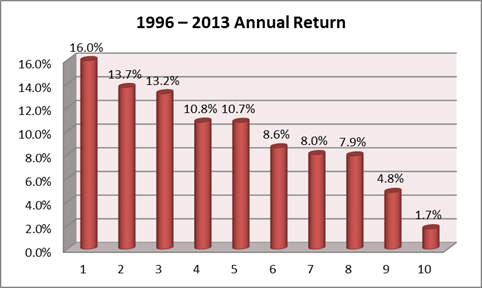 Qualitative Analysis
While the strategy uses quantitative models to source ideas, it does not blindly initiate positions based on the output.  Black boxes have numerous problems and investors should always apply a qualitative overlay.  Some of the pitfalls of black boxes are:  a) risk of model failure due to data problems (eg. unadjusted, plain wrong), b) value traps and "falling knives" (eg. Radioshack which was highlighted by model but rejected after fundamental analysis), c) high concentrations in a sector.  On this topic, see my article in Seeking Alpha found here.  As a result, fundamental analysis is key in order to reduce the problems with black boxes and to select the best opportunities highlighted by the models.
After producing short lists of potential investment opportunities FATALPHA applies bottoms-up fundamental analysis.  This involves going through a step process which the investment must pass:
Trading volume minimum requirement
Business profile (i.e. character and how it fits into portfolio)
Debt structure and sustainability in relation to cash flows
Read recent research reports, earnings announcements, and conference calls.
Identify headwinds, risks, and reason for current cheapness.
Analyze annual and quarterly results and calculate projections.
Calculate/Evaluate margins, returns, growth, historical valuation, and discount to fair value.
Form final conclusion on the investment thesis.
Before a purchase, the technical strength or weakness is assessed and in general flat/bottoming out to rising stocks are preferred, while stocks in free-fall are generally avoided and placed on a watch list.
Usually, 99% of the opportunities analyzed each month fail to pass the qualitative stage.
Qualitative Analysis Adds Value
By combining qualitative analysis to the quantitative methods, value is added to the process.  This results in higher returns with lower risk.  Proof of the value added can be seen by comparing the model return with the real-money FatAlpha portfolio return.  Taking model "Value 1Q" shown in "Sourcing Ideas" section, we see that FatAlpha outperformed the model in 4 out of 5 years.  Since inception to 2016, the quant-only model resulted in an 11% annual return versus 31% for FatAlpha.  (In the chart shown below, S&P 500 is the SPY with dividends after tax re-invested while IVE is the iShares S&P 500 Value ETF).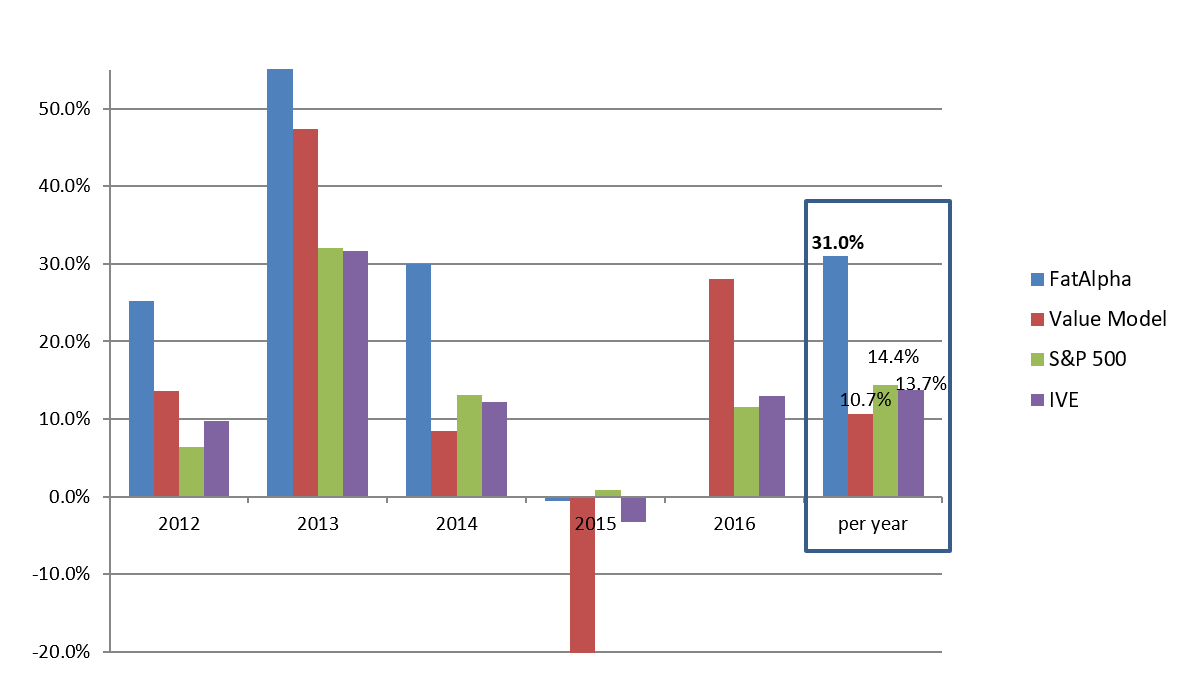 Summary of the Investment Process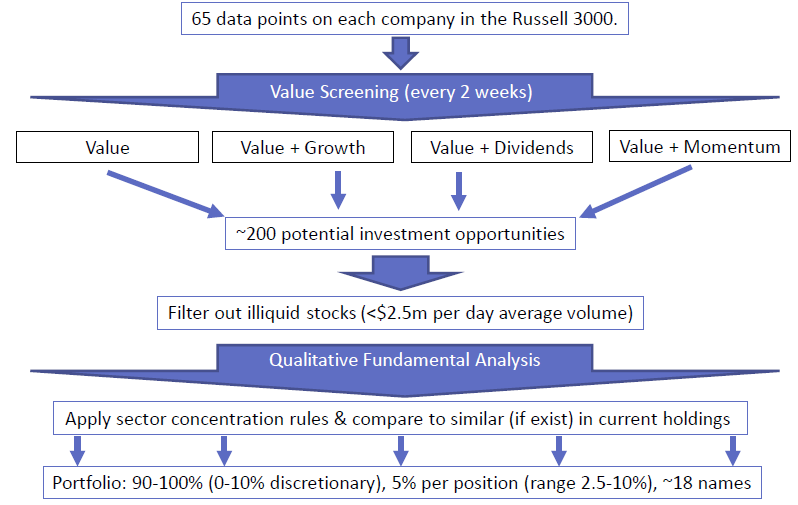 Examples of Trades
GameStop (GME)
Absolute return:  61%
Holding Period:   303 days
Story:   GME which generates most of its revenue from sale of used games was trading at less than 3x EV/EBITDA as the market exaggerated the long-term risks of online gaming and non-transferable downloadable content.  Stock was beaten down too early in the cycle.  This presented an opportunity for medium-term profit.
HollyFrontier (HFC)
Absolute return:  39%
Holding Period:   140 days
Story:   The independent refiner benefited from the WTI-Brent spread.  With a huge cash position it was paying both normal and special dividends with a resulting yield of 7% while the stock was trading at an EV/EBITDA of less than 3x.
American Greetings (AM)
Absolute return:  9% and 15% respectively
Holding Period:  28 and 42 days respectively
Story:    AM was the top pick of one of the best models.  The majority holders made an offer to take the company private.  The stock continued to trade at a discount to the offer.  After 28 days, the stock traded at a $17 and profit was taken at +9%.  The offer was raised to $17.50 and another opportunity arose.  The offer was subsequently risen to $18.20 and profit was taken at $18.33.  In both cases dividends were also earned.