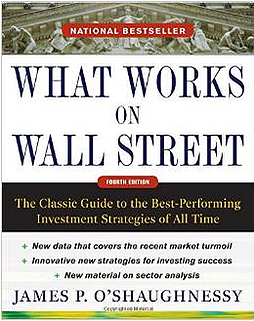 I've decided to begin this new 'Review' section with a review of the book that inspired me and was the trigger or turning point to begin forming my strategy.  This book is non-other than "What Works on Wall Street" by James O'Shaughnessy.  If you have any doubt that value investing doesn't work then I guarantee you that this book will change your mind.
The beauty of the book is its presentation of data and strategies.  What works and what doesn't based on the backtested results.  There is no vague opinion or some secret indicator.  The author thoroughly backtests single factors but also combines factors into strategies which he also backtests.  With performance data going back to 1926 backtests are done on: P/E, P/Bk, P/S, EV/EBITDA, as well as profit margins, returns, momentum, growth, debt and accounting ratios.  He then shows combinations of multifactor strategies and how a single composite factor can be formed to improve the returns relative to a single value ratio such as price to books.
The analysis and methodology are very thorough as he takes into account various potential biases (eg. survivorship bias) and other data problems.  These are discussed in the very first chapter, right before he starts digging into to the data.
The author has used this research to manage money professionally for the Royal Bank of Canada, Bear Sterns and currently O'Shaughnessy Asset Management with around $7 billion under management.  So not only does he talk the talk but also walk the walk.  It is my understanding that O'Shaughnessy combines strategies so as to find stocks that are not only cheap but also have financial strength and earnings quality.  There is a great deal of information on the internet that readers can check out.  My disagreement with O'Shaughnessy approach is his sole quantitative focus.  Unlike the author I believe there is a place for qualitative old-fashioned bottoms-up fundamental research.
Currently in its fourth edition, and with 720 pages of content, the book is a steal at under $30 at Amazon.com and I wholeheartedly recommend it.