At the end of January, I flew to Switzerland to attend Guy Spier's private event. The event took place in the village of Klosters (Davos region) in Switzerland and the beautiful snow-covered scenery was a delight. As I live in Cyprus, I rarely see any snow. The event has many similarities to the Cyprus Value Investor Conference that I organize and hence I enjoyed it very much. Around 30 investment ideas were presented as well as a variety of other topics. Guy and his team did an amazing job and got everyone involved throughout the 3 days. Here I am (in the middle) among other value investors going for a walk. (Hmmm… I'm the only one wearing gloves, a scarf and a beanie and yet I'm the only one who caught a cold…). To my left is well-known manager Vitaliy Kastenelson whom I highly recommend you follow for his excellent in-depth analysis and views. Check out his excellent take on socially responsible investing.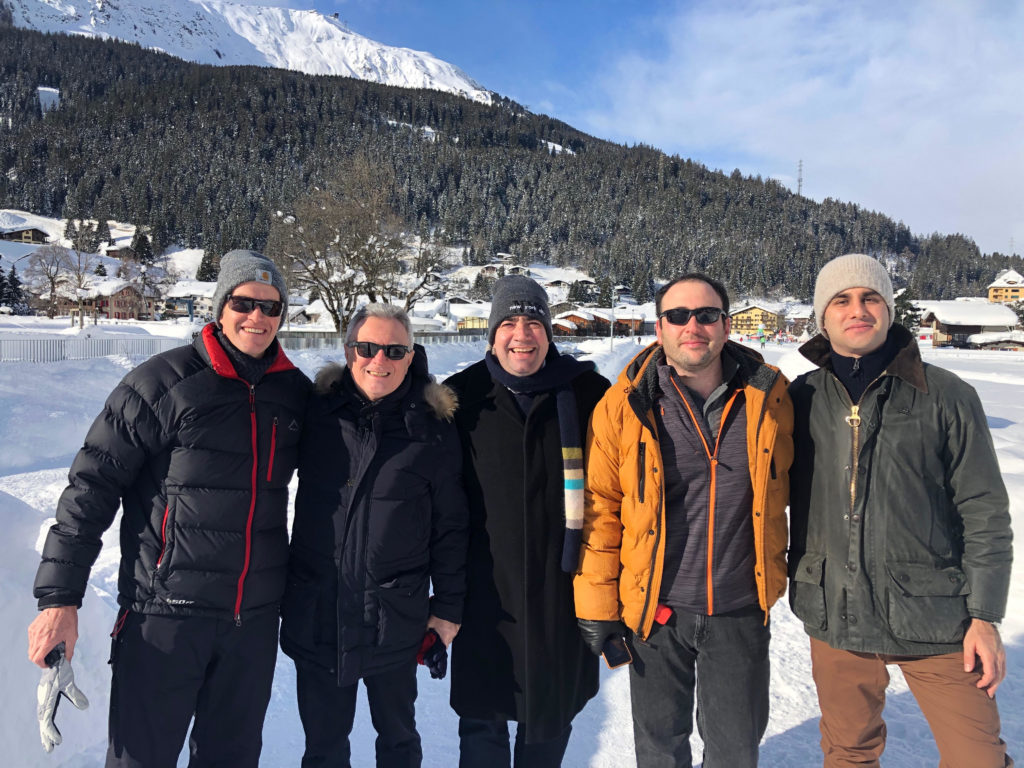 At the event, I presented 2 investment ideas. Guy graciously offered free speaker coaching from TED advisor Martina Buerge. It was a very helpful experience as she went over the presentation with me and provide some excellent tips. I'll pass on some of her wisdom via 3 words: reduce, reduce, reduce. Unfortunately, we all include way too much information on our slides which essentially turn into a textbook as we join the "death by powerpoint" crowd. While still not perfect I made a number of changes and you can see the presentation in pdf format below. (At the event I used animations which can't be seen via the pdf but I highly recommend using when you present).
I personally own both stocks shown. My first idea was McKesson (MCK) and is actually my largest holding. The company is the largest pharmaceutical distributor in the U.S. and along with 2 competitors control 90% of the market. Essentially, the firm receives a small fee to get drugs and products to pharmacies and hospitals. The stock has dropped from a historical high of ~$240 to ~$120. While it is trading at 2013 levels, the fundamentals show a company that has doubled sales and earnings per share. In addition, the company generates significant free cash flow.
The bear case is that the prices of drugs will come down and thus impact the value of the company and that Amazon may enter the distribution business. Demographics though are in the company's favor with 10,000 baby boomers a day reaching age 65. The Amazon speculation is ridiculous in my opinion as this is a very low margin business with no fat to cut. As MCK put it, "We were Amazon, before Amazon was Amazon." Distributing drugs is very different from books. There are controlled substances, refrigeration is needed and regulation is another barrier. Even Walmart with $20 billion in pharma sales decided to join up with MCK to source generics. Furthermore, distribution of drugs is important and MCK has years of experience in an area that drug manufacturers are not interested in operating. In 2019, some drug companies have already announced single-digit price increases which is in-line with MCK's expectations for the industry. Even in the extreme scenario where prices are reduced, management expects that drug manufacturers will reimburse the firm for the services offered. A change in the reimbursement method is something that has also occurred in the past (2001) so there is a precedent for this.
The company is trading at under 10x earnings. If we apply the 5-year average P/E of 14x on EPS of $13-15 then we get $182-210. Note that wide moat healthcare stocks (from MorningStar) are trading at an average P/E of 21x. Finally, there is an additional kicker from the listing of Change Healthcare which is 70% owned by MCK.
My second idea was Abercrombie & Fitch (ANF) which I bought at around $19. The stock is one of the cheapest in the market, trading at 3-4x EBITDA and just above it's tangible book! That compares to higher industry comparables and it's own historical multiple of 5x. The stock got so cheap because of years of declining sales, margins and same store sales due to marketing issues and a problematic CEO.
What has changed is that the new CEO (from February 2017) has turned the company around with 5 consecutive quarters of both sales and same store sales (SSS) growth while operating profit has risen for the last 6 quarters. If we rank retailers based on SSS we will see that ANF when from one of the worst to one of the best (from -8% two years ago to +3% last quarter). Furthermore, gross margins have stabilized and operating margins are rising.
It's a simple story of a turnaround that has not been recognized by the market. It trades at a cheap valuation with a sustainable 4% dividend yield (as it is less than 30% of free cash flow) while the company is buying back stock.
Sophocles-Sophocleous-2-ideas-from-my-PA