I hope my American friends had a fun Halloween.  The entire month of October was Halloween to me as the Active strategy witnessed volatility with the alpha gyrating in a 6% range (specifically -3% to +3%).  When all was said and done, the market had a monster up month with the S&P 500 rising 8.9%, while the FatAlpha Active portfolio rose 6.3%.  The best performers were Trinity (+19%), Domtar (+15%) and Apple (+14%), while Sanmina and Insight dropped -3% and -2% respectively. This month's underperformance pushed the YTD returns below the benchmark as 10-month return registers at 2.1% vs 2.8% for the S&P 500.
The new market neutral portfolio (launched in September) showed its colours as it dropped -0.2% during the month.  So far it is very stable and shows no correlation to the market.  Those following me on Seeking Alpha will noticed that I am short Valeant (VRX).  It was done here at around $149.  I'm hope none of my readers are long.
In general the market rally was no surprise to me, and readers should remember my August 31st call "The recent drop is an opportunity to get long" from my Seeking Alpha article (http://goo.gl/RCZRxQ).  I have written several more articles over the last few weeks including Apollo Education (http://goo.gl/C4JvTC), Apple (http://goo.gl/LEmZiU), Arrow Electronics (http://goo.gl/SxE6Wq), LinkedIn (http://goo.gl/gvLOzi), Micron Technology (http://goo.gl/nd7h4r), Sanderson Farms (http://goo.gl/Nx7ehK), and Valeant (http://goo.gl/s8FSVU).
My plan this month is to go through the portfolio with a comb and remove some of the stocks which have a smaller margin of safety and less upside.  Personally, my goal is to be outperforming every quarter and every year.  A fellow portfolio manager told me not to be so harsh on myself and pointed out the weakness of value this year.
As you can see from the Bloomberg chart posted below, growth stocks have risen 6.3% vs 0.1% for value.  According to an article by Neosho Capital on Seeking Alpha (http://goo.gl/UFDFyp), value has been underperforming for some time.  Neosho believes QE is to blame.  This reminds me of 1999 when Warren Buffett was considered too old and too old-fashioned.  At the end of the day value always prevails, even if it take a while.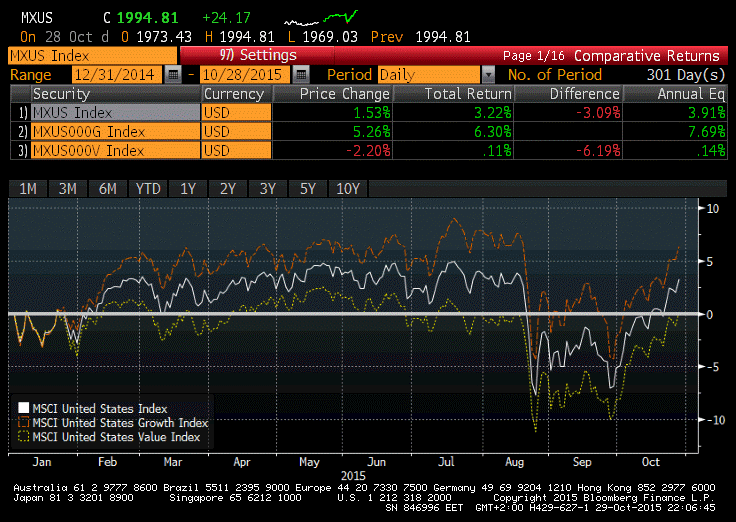 Famous hedge fund managers haven't been doing so well also.  Einhorn, Ackman and Rosenstein have lost -17%, -13% and -7% respectively for the first nine months of the year (FatAlpha Active was down -5% during that same period).  Barry Rosenstein runs Jana Partners.  (In the past I had 3-4 investments that overlapped with them).
The 4th quarter during the last 3 years were good for FatAlpha Active.  I believe we will most likely see a positive one with the S&P closing in the single digits.  Have a great month!
Subscribe in order to receive the newsletter at the beginning of the month.  Here it is posted with minimum one month delay.  Click here to read entire letter.